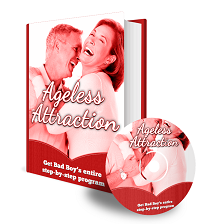 Important news:
Few months were passed since we written and published this review on the Ageless Attraction program. During that time things changed and due to different causes we will not recommend the Ageless Attraction system anymore. We made a decision to keep our original review with no change in the event you will want to take a look at it.
You can contact us if you want more information about the causes that led us to remove our recommendation about the program.
All the best 🙂
The OneCareNow team

The Basics
Ageless Attraction is a new dating course that was designed by Jason Douglas, an average divorcee at his fifties.
The course reveals easy methods that are designed to help you become irresistible to women, all without misleading ticks, pickup lines that are just cheesy or seduction techniques that are just too tacky.
Jason Douglas says that the system he created is based on Dan Nesek's proven methods. Nesek, which is usually known as "Bad Boy", is a famous pickup artist that for two consecutive years has been given the award for being the number one pickup artist worldwide.
Jason and Dan met when Jason ended up flying to Europe, where he attended one of Dan's dating boot camp. They eventually collaborated and as a result of the collaboration, Ageless Attraction was created. In simple words, the Ageless Attraction system offers people the chance to check out the methods that Dan teaches in his boot camps, but the difference is that you won't need to pay thousands for it.
The Ageless Attraction system has 12 main sections and Jason calls these sections the "Bad Boy's 12 attraction secrets". In a nutshell, here is a short explanation about these secrets:
The first three secrets cover things such as techniques older men can use to meet women who are younger than them, as well as why some women may not be responding to your text or calls, even if they gave you their number, and how to get women to fall for you at first sight.
Secrets 4-6 covers topics such as getting women to be with you even if she has ignored you for months, five methods you can use to get the woman you're interested in to give you her love and attention, as well as how to get out of the friend-zone.
The rest of the secrets cover various things such as common mistakes guys usually make, tips regarding the first date and proven methods such as the "Planting Sex Seeds" technique and "Magic Wand" method which you could find interesting and helpful…


The Pros And Cons
The Pros
1. Created By An Expert – The first pro is that the author has credibility. As explained before, "Bad Boy" is actually Danijel Nesek and he was one of the first persons to offer dating coaching services to those in Eastern Europe. He started putting on pick up boot camps back in 2003, and he is considered to be one of the best dating coaches in Europe for a very long time.
The point is that his credibility checks out and you can rest assure that Ageless Attraction was designed by someone with experience who has helped many men with their love life and relationship life over the years.
2. Easy To Follow – The Ageless Attraction system is easy to understand and you should not have a problem memorizing all the methods shown inside.
3. You Won't Find Tons Of Pickup Lines To Remember – Jason Douglas and "Bad Boy" say that they created the Ageless Attraction system to help men gather the right information and approach in order to get the women they desire.
As a result, they offer different methods compared to most of the dating and seductions guides available online these days, and inside their system won't find the same old "recycled pickup lines".
4. Designed Specifically For People Over 35 Years Old – Many of the techniques inside the Ageless Attraction program were designed specifically for people over 35 years old. This can be a huge advantage for people at this age, since most of the popular dating guides online these days usually focus on people at their 20's, and offer methods that many times will not work for older guys.
5. 60 Days Guarantee – Another advantage of Ageless Attraction is the 60 days guarantee which means you can try the program for two months and to get a refund if you don't find success with it. Bad Boy and Jason Douglas promise you will get your money back if you end up getting zero dates after following their Ageless Attraction system.
In simple words, you can give this system a try for two months straight and implement the techniques that apply to your situation. If you have done everything recommended inside this system and still feel no change, then you can simply get your money back.
The Cons
1. It Is A Digital Dating Course – The Ageless Attraction system is available in eBook format, which means you can only buy it online and not offline. Some people prefer to hold a real book, something that they can physically feel, and that is why some people might not be thrilled about Ageless Attraction being available only as an eBook.
So, if you're looking for a real book or even a DVD, then Ageless Attraction may leave you a little disappointed.
2. A bit Expensive – the price of Ageless Attraction is kind of on the pricey side and some people might notice that it is a bit more expensive than other guides they saw online before.
With that said, when the price of Ageless Attraction is compared to the costs of Bad Boy's summer pickup trainings, then there is no doubt that this is a lot cheaper option.

Our Conclusions
Just like any other dating course for men, Ageless Attraction has its positives and negatives, and it is definitely not a perfect solution for every man. As explained before, the price of this program may be a bit expensive for some, and in addition, people that are younger than 35 years old may find better courses for them online.
On the other hand, there is no doubt that many people at their late 30's, 40's or 50's can find the Ageless Attraction course to be very helpful for them.
The course is very easy to follow, there is no need to remember tons of pickup lines, and the fact that the techniques offered inside were created by a real expert in the field is also a big plus.
Overall, we will recommend any man over 35 years old who tries to understand how to be irresistible to the women he desires to give the Ageless Attraction system a try. After all, the fact that Jason Douglas offers a 100% refund policy means that you can try all the methods inside the Ageless Attraction system with no risk at all…