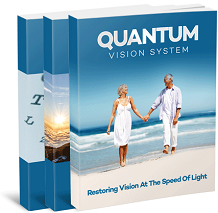 Important news:
Few months were passed since we posted this review on the Quantum Vision System. During this time things changed and due to different causes we will not recommend the Quantum Vision System from now on. We chose to keep the original review without change just in case you will want to look into it…
You can write us if you want more information about the causes that led us to remove our recommendation regarding the system.
Take care
The onecarenow team

The Basics
The Quantum Vision System was created by Dr. Kemp, a certified optometrist, in order to help individuals go through a natural and simple process to restore their eyesight. Dr. Kemp explains that the main purpose is to achieve a 20/20 vision by following all-natural methods and a unique set of daily exercises that should not take more than 10 minutes a day.
According to Dr. Kemp, this system works without eyeglasses, lenses and does not require eye surgery. Dr. Kemp claims that wearing eyeglasses causes your eye muscles to become weaker, which means you are going to need stronger eyeglasses to maintain your vision. He also believes that the flexibility of your eye muscles will decrease if you were eyeglasses.
Contact lenses are not a much better option, he says. Wearing lenses increases your risks of developing infections and can actually cause damage to your optic nerve if you forget to take your lenses off before going to bed. Besides, wearing lenses can cause your eyes to become dry.
To make a long story short, Dr. Kemp developed the Quantum Vision system after one of his patients couldn't be treated with traditional methods. The patient's vision kept getting worse and Dr. Kemp decided to find a method that would help his patient. He used the Bates method once a day on his patient, and while he did not get the results he was hoping for, the Bates method did not make the patient's condition worse, which was a good sign for him.
Dr. Kemp decided to develop his own treatment method after this small success, and wanted to find a method that would be simple and fun for his patients. Dr. Kemp says that a meeting with a quantum physicist was the main reason that changed the way he approached vision problems and helped him develop his method.
The quantum physicist shared a patented technology with Dr. Kemp, which was actually developed to improve the vision of soldiers who were quickly losing eyesight. In simple words, this is a natural method and no special equipment is needed when following it. More specifically, this method can restore eyesight by working on five different parts of the eye: lenses, cornea, eye muscles, retina and the optic nerve.
Dr. Kemp used everything he learned from the quantum physicist he met, and after some improvements and a "personal touch" he created his "Quantum Vision System" in order to help individuals who have poor eyesight. Dr. Kemp explains that this system can be used by people who suffer from common problems such as farsightedness, nearsightedness, astigmatism or presbyopia.
Inside his Quantum Vision System Dr. Kemp decided to include three more bonus items besides the main manual, and in short these items are:
1. A free report called "Quantum Memory". This report contains everything you need to know about boosting your memory by as much as 85% in just 10 days.
2. Another free report called "Quantum Lie Detector". This report is filled with information you can us to recognize a cheater or a liar in just a few seconds.
3. A third free report called "Quantum Reading". This report can be used in order to learn how to speed read. This report teaches how to read between 1,000 and 1,500 words per minute in less than two weeks…

The Pros And Cons
The Pros
It Is A Natural Method That Will Improve Your Life
The Quantum Vision System can help you improve your vision in a natural manner and by following Dr. Kemp's instructions you will be able to perform many actions without wearing your glasses.
In addition, by following this system you can stop worrying about your prescription points going up.
You Can Get Results Relatively Fast

Dr. Kemp explains that you should notice a difference very quickly, and on the official Quantum Vision System website he claims that you can even achieve 20/20 vision in only one week if by following the program.
We were not able to find any testimonies that back this claim up but we did find some reviews from individuals who noticed a real improvement after a few weeks.
Being able to notice a real difference in only few weeks is something we consider a big success, considering that this is a natural method.
The Quantum Vision System Can Also Save You Money
How much money do you spend on eyeglasses, lenses, eye drops and appointments? Correcting your vision is not cheap, especially if you are considering the more expensive options such as LASIK eye surgery.
On the other hand, Quantum Vision is a very affordable system compared to other treatment options and it comes at a one-time reasonable fee.
There Is No Learning Curve
Dr. Kemp showed his system to his patients before releasing it and asked them to share feedback with him. This means that this system was made with patients in mind, and it is very easy to follow and understand everything inside.
You will probably never find yourself guessing about what you should do next thanks to the clear instructions.
You Also Get Full Money Back Guarantee
Dr. Kemp offers a full refund within 60 days of purchase if for any reason you will not be satisfied with his program.
We feel that this guarantee is very generous, especially when we take into account that the Quantum Vision System should help you get results in a much shorter period of time…
The Cons
Some Exaggeration
We do not like seeing huge claims such as "getting 20/20 vision within a week by using only natural methods". Everyone is unique and treating every vision problem in a week with a natural method might not be possible. We believe that the results of this method vary in function of your condition, your current prescription points and the number of years you have been wearing eyeglasses for.
For us, some of the claims on the official Quantum Vision System site are a bit of exaggeration.
The Program Does Not Solve All Kinds Of Problems
In most cases, Nearsightedness, farsightedness, astigmatism and presbyopia can be treated with the Quantum Vision System. However, if you have any other health conditions such as cataract or glaucoma, you will probably not see any improvements after using this program.
The Product Is Only Available In Digital Format
The Quantum Vision System is a product available in digital format only. You will receive some checklists, subliminal MP3s and printable eye charts among other things, however, all of them are available only in downloadable format and not in a hard-copy version…

Our Conclusions
As with any other vision correction solution, Dr. Kemp's Quantum Vision System has its own pluses and minuses and it is definitely not a perfect system. Having said that, the fact that Dr. Kemp provides a 60-day full money-back guarantee for a program that supposed to give results in only few weeks is a very important advantage that lets you try the Quantum Vision System with no risk…
Personally, we really like that the Quantum Vision System is based on all natural methods and because of that it can help you not only to stop wearing your glasses but also to save you a lot of money on the way. In addition, the fact that everything inside this system is very easy to understand, makes it really simple to follow all the instructions by Dr. Kemp.
All in all, we will recommend anyone that is searching for a natural, safe, easy to follow and affordable vision improvement solution to give the Quantum Vision System a try. After all, the money back guarantee that Dr. Kemp provides makes his Quantum Vision System a risk-free option and allows you to get all of your money back if you won't be satisfied with the results.
For us, this sounds like a very fair offer…