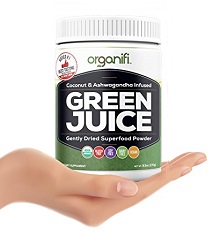 Hi and welcome to our review about the Organifi Green Juice by Drew Canole.
As always, this review will be broken into 3 main parts:
1. The basics section that will help you to understand better what the Organifi Green Juice is all about.
2. The section about the pros and cons of Organifi which will cover some of the primary pros and cons of this green juice.
3. The conclusions section about the Organifi Green Juice that sum up our thoughts and feelings on this organic powder drink…
Let's start 🙂

The Basics
The Organifi Green Juice was created by Fitlife TV founder Drew Canole, who is also a transformation specialist, vegetable juicing spokesperson and nutrition expert. In simple words, "Organifi" is an organic powder drink containing a combination of 11 non-GMO superfoods, which promises to improve skin appearance, promote mental clarity and beat stress, while helping you to improve your overall health at the same time.
According to Drew Canole, although most of us would love to eat a healthy diet, there are several reasons why that it isn't always possible, including lack of money and time. Filing our plates with every nutritious fruit and vegetable that we need is also not possible since there are way too many of them.
Because of that, Drew and the team involved with the Organifi Green Juice state that their product's main goal is simple: To help you look and feel younger in only "30 seconds a day," without having to worry about shopping for a bunch of ingredients and then having to prepare them along with doing all of the cleanup after you are finished preparing and eating your meals…
To understand exactly what is contained in the Organifi Green Juice that makes it possible to achieve those results, let's take a quick look at the main ingredients contained in this green powder drink:
Chlorella – This helps the body get rid of toxins. It is rich in protein and healthy polyunsaturated fats.
Coconut water – This helps to keep you hydrated and provides your body with various electrolytes and minerals, like magnesium, sodium, phosphorus, calcium and potassium.
Tumeric – Traditional medicine has used this spice for treating various inflammatory conditions, including blood-tinged urine, flatulence and toothache.
Lemon – This fruit has alkalinizing effects, which helps with promoting blood sugar stabilization along with being an appetite suppressant.
Ashwagandha – This is an herb that helps people deal with their internal and external stress levels.
Matcha green tea – Helps with normalizing hormones, suppresses appetite and helps to beat stress.
Wheatgrass – This Contains protein, amino acids and various vitamins (B-complex, A, C, E and K).
Mint – Promotes sleep and is used for cramps, inflammatory conditions, indigestion and seasonal allergies.
Beets – Enhances the natural defenses of your body because they are rich in essential minerals, fiber and vitamin C.
Moringa – A plant that is an excellent amino acids source, which the body needs to promote cell growth and repair them.
Spirulina – A special anti-aging food that is rich in beta-carotene. It is good for calcium, iron, your immune system and your eyesight…
Go To This Page For Additional Information About The Organifi Green Juice And Its Primary ingredients!

The Pros And Cons
The Pros
Easy To Make And Convenient
As promised, it only takes a couple of seconds to make the Organifi Green Juice, and it blends with water very easily as well as other drinks. This is something you will really appreciate if you have a busy schedule or if you are on the road all the time.
In simple words, with Organifi you won't have to pack up a heavy juicer and take it everywhere you go so that you can enjoy your healthy and revitalizing green juice.
Has A Better Taste Than You Might Expect
Is juicing new to you? If the answer is yes, then you might be concerned about what the Organifi Green Juice tastes like. Well, you aren't the only one, and it seems that many other people who decided to try it were thinking it might taste like dirt or grass.
Although you might need to get used to how it tastes, we must admit that it is actually surprising. It has a minty and mildly sweet taste, and it also doesn't have a grainy texture, like so many other similar products have.
Also Great For Children
More and more parents using the Organifi Green Juice report that they are very happy it allows them to easily sneak healthy vegetables into their children's meals and diet. A majority of them said that it was very easy to make healthy smoothies and dips that included the Organifi juice powder.
So, if you are a parent and you are concerned with the health of your children, but aren't able to get them to eat fresh vegetables, this may definitely be able to help you.
Achieve Noticeable Results In A Short Period Of Time
Many customers report that they felt health improvements after about a week of drinking the Organifi Juice. These individuals reported better sleep, reduced stress levels, improved bowel movements and digestion, and increased energy levels.
Most consumers also stated that they were quite impressed with how high the quality is of the ingredients included in the Organifi powder.
100% Money-Back Guarantee
If for any reason you don't like the Organifi Green Juice within one month, you can request a full refund. This can be done by calling the Organifi support team, reaching them via email, or getting in touch with them at their website by leaving a message.
Basically, this guarantee allows you to try the Organifi juice completely risk-free…
The Cons
Not Everyone Will Like How It Tastes
The Organifi Green Juice won't suit everyone's taste buds. You will need to get used to it, and if after several days you still don't like its taste, you might want to try to improve it by using almond milk to mix it with, instead of just mixing it with plain water.
May Be Too Expensive For Some Of Us
One Organifi Green Juice bottle costs just under $60, and for some people on a short budget, it may be simply too expensive to afford it on a regular basis.
However, while we agree that the Organifi Green Juice is not cheap, we must say that consider the high quality ingredients that it contains, the cost is quite reasonable. In addition, if you order multiple bottles at the same time you can take advantage of a discounted price. Over the long run, this will save you lots of money…

Our Conclusions
Just like any other healthy powder drink, the Organifi Green Juice has its own positives and negatives, and it is absolutely NOT the perfect choice for everyone. This is especially true if you are on a tight budget, or if you simply have lots of free time daily and prefer using a juicer to make fresh green juice by yourself.
On the other hand, if you are a very busy person that wants to get all the superfoods you need in one easy to prepare drink, if you try to make your children's diet healthier, or if you simply want to improve your overall health, then the Organifi Green Juice is one product that you should seriously consider.
True, the price of Organifi is not cheap, however there are some good reasons for this and on top of them is the fact that when purchasing this organic powder drink you can be sure that your body gets only high quality ingredients that it truly needs.
All in all, we were really impressed with the quality of the Organifi Green Juice, and we will recommend anyone that is looking for a practical and healthy solution to supercharge life, feel younger, and reduce daily stress, to give Organifi a try.
After all, you have 30 days to try the Organifi juice and see for yourself if it is really nutritious and delicious as you expected. If for some reason you feel disappointed, then you can simply contact Drew Canole and his team in order to ask for a full refund.
Taking into consideration all said above, we will absolutely recommend taking the Organifi Green Juice for a risk-free try…