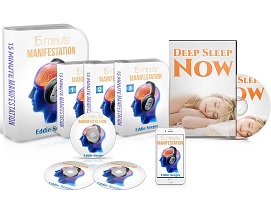 Hi there and welcome to our review about the 15 Minute Manifestation program by Eddie Sergey.
As always, this review will be divided into 3 sections:
1. The basics section where we explain what you can expect to get when purchasing the 15 Minute Manifestation system.
2. The pros & cons section that contains an in-depth look at the most important benefits and drawbacks that Eddie Sergey's manifestation program has.
3. The final section that will summarize our thoughts on the 15-Minute Manifestation course…
Let's start 🙂

The Basics
Created by Eddie Sergey, a 37-year-old 4th grade dropout, "15-Minute Manifestation" is a unique manifestation tool that aims to help you rewire your subconscious mind by using a series of audio tracks, so you can get rid of old and self-limiting beliefs and manifest everything you want. According to the author, all you need to do is to listen to these tracks for 15 minutes daily for at least 21 days…
Eddie's Story
Eddie Sergey says he used to suffer from terminal brain cancer when he was 9 years old. But instead of undergoing chemotherapy, his mother made him stay at home and take natural remedies (e.g. veggie juices and sea vegetation supplements). She also made him listen to a cassette tape, which Eddie claims to be the key to his complete healing.
There's nothing supernatural about the cassette tape. It's just quantum science, Eddie said. The tone he's been listening to has a specific frequency called theta waves. This wave can supposedly talk to your subconscious mind, which he refers to as "The Editor," and make it open to reprogramming. He says this is something you can't achieve even if you read a ton of books or attend countless seminars.
Mr. Sergey explains that reality is composed of a sub-atomic particle and the theta wave represents the possibility. But what makes this possibility (everything you want) a reality is your attention. "The Editor" controls your attention, but unfortunately, it tends to think negatively.
The good news is the tracks in the 15-Minute Manifestation system can make your subconscious mind focus its attention to what you desire and manifest them into reality.
More specifically, the 15 Minute Manifestation program is composed of 3 tracks:
Track 1 (the foundation): This first track will open up your subconscious mind, or "The Editor," and eliminate your self-limiting beliefs that stop you from manifesting your desires.
Track 2: This will introduce a "new story" to your mind, so that your attention will not focus on your negative circumstances and substitute them with what you really want.
Track 3: This track will help you to consciously experiment with your experience of reality, reverse your scarcity and negative mindset, and focus on prosperity.
The 15 Minute Manifestation program also comes with a bonus track free of charge. This bonus track, which is called the "Deep Sleep Now", is a 15-minute audio that will make it possible for you to fully relax and get the best sleep of your life by using the delta brain frequency…
Click Here For More Information About The 15 Minute Manifestation Program And The Audio Tracks That You Will Find Inside!

The Pros And Cons
The Pros
Doesn't Take a Lot of Time
You only need 15 minutes a day to listen to these audio tracks. You can listen to them at home, office, school, or wherever, except when you're driving. It's convenient and won't take up much of your time.
Backed by Medical Journals
If you take the time to dig up information online, you'll find a lot of research reports on brain plasticity and the different brain waves, as well as their possible benefits.
Break Free from Self-Limiting Beliefs
Eddie Sergey's15-Minute Manifestation system could help your brain get rid of negative beliefs that are stored in your subconscious mind. This is entirely doable. Once you erase your self-limiting beliefs, you'd be able to pursue everything you want without fear and live a better life.
Easy to Understand
You may get a little confused at first. However, in general, it's easy to understand the main concepts of the15-Minute Manifestation system by anyone. You don't need a particular expertise, educational background, or experience in manifestation to benefit from this guide.
Great Bonus Item
According to SleepMedSite.com, over 70 million Americans suffer from sleep and wakefulness disorders. That's why the "Deep Sleep Now" bonus track is definitely a great bonus. It uses delta brain waves, which are the same waves present during deep, dreamless sleep.
60-Day Refund Guarantee
This guarantee gives you the opportunity to try this manifestation tool without worrying about your money. Just take it on a test drive for two months or less to see if it lives up to its promise. If it doesn't, you can send Eddie Sergey an email and request a full refund…
The Cons
Not a Quick Fix
Some people might experience results on their first few tries. However, majority of people might have to wait longer, like 21 days, to experience significant results. As what Eddie Sergey made clear, the longer and more consistently you listen to these audio tracks, the more dramatic the results would be.
Digital Product
All audio tracks are digital, and you need to have a fast and reliable internet connection to download everything without problems. If you have a slow internet connection or prefer a DVD copy, this might not be for you…

Our Conclusions
Overall, we think that 15 Minute Manifestation by Eddie Sergey is a unique and very interesting manifestation program.
Based to our research online, it seems that this system can truly help you become more relaxed, sleep better, and improve your mental health. And the best thing about it is that it only takes15 minutes a day to listen to the audio tracks that Eddie Sergey provides.
In addition, the facts that the concepts of this program are backed by medical journals and that no former experience in manifestation is required in order to benefit from this system, are other great advantages that "15 Minute Manifestation" has to offer.
Of course, the 15-Minute Manifestation program also has its downsides, and you should understand that you may not experience significant results immediately. You may have to keep listening to these tracks for 21 days or more before you achieve what you want. Or… there's also a possibility that it won't manifest your wants into reality, so keep your expectations within reasonable levels…
To sum it up: If you think that 15-Minute Manifestation will help you achieve significant results within 24 hours, or if you're not ready to dedicate at least 15 minutes a day for following this program, then this is probably not for you.
On the other hand, if you're craving for a better life, or if you simply want to erase your self-limiting beliefs and replace them with more positive and empowering beliefs, then the 15-Minute Manifestation program is a great option for you.
Moreover, since Eddie is offering a 60-day refund guarantee, you can simply give his manifestation program a try without any risk on your part.
Well, that's all we can tell about the 15-Minute Manifestation program. We hope the information we provided was helpful, and we wish you success, good health, and happiness 🙂
Click Here To Get Instant Access To The 15 Minute Manifestation Program Now!