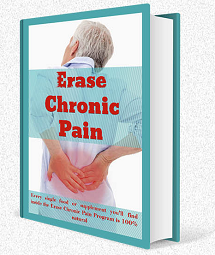 Important news:
A couple of months were passed from the time we published this review on the Erase Chronic Pain guide. During this time things changed and because of various causes we will not recommend the program anymore. We chose to keep our original review without change in case you will want to have a look at it…
Feel free to get in touch if you want more details regarding the causes which led us to remove our recommendation on the Erase Chronic Pain program.
We hope that it helps
The OneCareNow team

The Basics
Erase Chronic Pain is the brain baby of two specialists in pain and neurology, Eric Herschel and Kevin Kleimar. This is actually a step-by-step guide to getting rid of most types of chronic pain using only natural means.
The authors believe commonly used pain medicines are not the best option because of their side effects that can affect the liver. Moreover, they are only symptomatic treatments which don't heal the root of the pain. As soon as their effect has gone, the pain comes back in force.
Eric and Kevin also say that pain doesn't always have a unique origin, hence the futility of trying to find its root. Here's a good example: if you feel a pain in your back, somewhere between your neck and shoulders, can you touch the spot where it originates from?
Eric Herschel, who was a chronic back pain sufferer, found his salvation in Kevin Kleimar's theory about pain. This theory is that all chronic pain situations occur in the brain, no matter if we talk about arthritis, neuropathy or fibromyalgia. He identifies all these as "Centralized Pain".
Kevin Kleimar claims that Erase Chronic Pain is effective because it acts directly on the source of such pains, by eliminating or reducing certain substances in the brain that cause all that terrible pain you experience on a continuous basis. These substances bring your brain in an over-excitation state, thus determining it to feel the intense pain sensation.
This is why Herschel and Kleimar came up with a specific list of foods, supplements and step-by-step directions for making the right combinations and for determining the size of your daily portions. Everything is about chemistry and the balance between various chemicals contained in the foods we eat and in the nutritional supplements we take, hoping we are going to feel better.
When you follow the exact combinations that work, these chemicals have the power of shutting down the pain in your brain, allowing you to live your life in peace. And this is exactly what the Erase Chronic Pain guide promises to show you…

The Pros And Cons
The Pros
100% All-Natural Remedies
Unlike traditional medication, all foods and supplements mentioned and recommended in the Erase Chronic Pain Program are absolutely natural and free of any side effects or adverse reactions. Moreover, they are readily available in pretty much any grocery store, so you won't have problems in following the instructions in the guide or finding the recommended ingredients.
It Is Less Expensive Than Pain Medication And Specialist Consultations
A study that appeared in JAMA magazine showed that Americans spent almost $90 billion per year only for treating their back and neck pain. This study refers to the period between 1997 and 2005, so we can only imagine today this figure is even bigger.
Anyway, did this huge expenditure generate results?
The lead researcher, Brook L. Martin, wasn't too impressed with the results. Very few positive effects were noticed, despite the huge amount of money spent on health care and medication. Moreover, the patients were even more depressed and limited from a physical point of view.
Where are you in this picture? How much have you spent on chronic pain medication and visits to various specialists? Chances are your answer was "too much".
On the other hand, the Erase Chronic Pain guide can be yours for a one-time payment which will give you access to all the information that Eric Herschel and Kevin Kleimar share inside. In addition, all foods and other things recommended in the guide are fairly inexpensive, somewhere below $20, which makes this natural solution very affordable compared to other solutions on the market.
Scientifically Proven Effectiveness
Unfortunately, Kevin Kleimar's study was impossible for us to find. Nonetheless, we managed to discover a similar one, led by Dr. Zhuo and a team of specialists.
Anyway, it is reassuring to know that the information presented in the Erase Chronic Pain guide has been scientifically validated. This makes it better in our opinion, especially if you are the rational type of person who wants to see hard evidence before trusting what you read or hear.
Designed For Long-Term Results
Eric Herschel had a 43-year experience with striking pain episodes, starting from his college years. Actually, he spent his youth and part of his adult life in pain. How about you? Are you an old sufferer just like Eric?
What Eric says, and very few people know, is that chronic pain can lead to another medical condition known as allodynia. It makes people suffer and feel pain even in the presence of otherwise harmless environmental stimuli such as light winds.
The authors say this is the main reason why their Erase Chronic Pain program is so effective, as it addresses exactly those chemicals in the brain that are responsible for sending the pain signals. This can lead for healing chronic pain for good and not for a limited time only.
The 100% Money Back Policy Is Reassuring
Kevin Kleimar and Eric Herschel trust their natural program so much, that they are willing to offer 100% refund of your money if you aren't satisfied with the results within two months from the purchase.
They promise that if your pain doesn't go away within this period of time, just send them an email and ask to have your money refunded. Everything you have paid is going to be returned to you, no questions asked…
The Cons
You Have To Commit And Make Efforts
If you imagine all you need is to buy the guide and then expect your pains to cease, you are wrong. The Erase Chronic Pain system can help, but you have to read the guide carefully, follow through, and maintain a high motivation in doing it until you become pain-free.
In other words, while Erase Chronic Pain is a scientifically-based program, it still needs your full cooperation in order to bring you the expected results.
Available Exclusively Online
The Erase Chronic Pain guide can only be purchased as a PDF file, so you have to be ready to read it by using an electronic device. There isn't any hard copy available, so if you don't like reading electronic books, this may be a con for you.
With that said, you can simply print it out at home if you really hate e-books…

Our Conclusions
As with any other solution for chronic pain, Erase Chronic Pain has its own pluses and minuses, and it is certainly not a "magic pill to eliminate any pain immediately". With that said, the fact that Eric Herschel and Kevin Kleimar offer a 60 day refund policy lets you try their natural solution with no risk at all, which is very decent on their part in our opinion.
Personally, we really like that the Erase Chronic Pain program is all-natural based and free of dangerous side effects or adverse reactions. In addition, the facts that it is very affordable compared to other solutions on the market, that the information presented inside the guide has been scientifically validated, and that it was designed to give chronic pain sufferers long-term results, are all great benefits that the Erase Chronic Pain system can offer you.
Overall, we will recommend any person that is looking for natural, safe and affordable solution for most types of chronic pain, to give the Erase Chronic Pain program a try. After all, if you won't be happy with the information Eric Herschel and Kevin Kleimar share inside, or if you won't see any change in your current condition after several weeks, then you can always take advantage of their full refund policy within two months…

Average rating:
1 reviews
Nov 29, 2015
Nothing special here
I really don't understand all the buzz around this guide online. Nothing special inside and the price is not cheap as well. You can find most of this information for free without problem…

This is not what I was expected and that's why I asked for my money back… Will not recommend it, unless you are too lazy to do some research online on how to deal with chronic pain naturally…
Thanks for the comment Dave. Your feedback, as well as other feedback that we got from several users via email, was very helpful for us and led us to make some changes to our review of this guide... Take care!