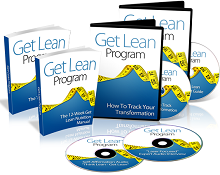 Hi and welcome to our review about the Get Lean Program by Belinda Benn.
Like always, this review will be divided into three main parts:
1. The basics section that will help you to learn what the Get Lean Program is all about.
2. The pros and cons section that includes the most important pros and cons that we think you should know about Belinda Benn's fitness program.
3. The conclusions section about the Get Lean Program that will summarize our thoughts on this fitness system.
Happy reading!

The Basics
The Get Lean Program is a fitness training system created by Belinda Benn, a reputable expert in the industry. Belinda had multiple appearances in media such as Oxygen Magazine, Musclemag and the Shape, and her Get Lean Program is 12 weeks duration system that was designed to tackle the biggest challenges women have to overcome in their attempt to shed some pounds and get a "sexy fit body".
One of the biggest issues in the modern fitness industry, as Belinda Benn says, is that most weight loss programs are simply designed for men. This makes them very hard to follow by women, thus leading to a lot of frustration and very limited results, if any.
That insight led Belinda to design the Get Lean program, an easy to stick to, three-month program that combines fitness with weight loss, and teaches women what to do day by day in order to achieve their fitness goals.
Actually, there are three versions of the Get Lean system: the "workout package", the "nutrition package" and a third one called the "transformation package". Each version comes with a different price tag.
It is not the purpose of this review to describe in detail the content of each of the above mentioned packages, because Belinda Benn provides all the details on them at her official site, however, it's worth mentioning the following things:
The "nutrition package" contains, among other things, a video to get you started, information and advice on nutrition, well-balanced recipes and complete meal plans. On the contrary, the "workout package" contains useful bodyweight and resistance workout videos with detailed explanations, an e-book about cardio exercise, a quick start instructional guide and tracking methods among other things.
Whatever you choice will be, you are going to get a 3-months daily plan together with detailed instructions and self-explanatory pictures. Moreover, Belinda Benn will be by your side for the entire duration of the program by giving you tips, inspirational kicks and progress tracking advice. This way Belinda Benn believes you are going to get the most out of the Get Lean Program…
Follow This Link For More Information About The Get Lean Program And The Different Packages That Belinda Benn Offers For Her Customers

The Pros And Cons
The Pros
The Author Is A Fitness Expert
The author of the program is a fitness expert who tried all methods on herself with outstanding results. Now she is in her late 40's, but she looks much better than many 30 year old women.
Three Different Packages To Choose From
As mentioned above, Belinda Benn created three different packages under the Get Lean umbrella, each of them priced differently and targeting different fitness aspects. This is something innovative and welcome on the market, as many women are very specific about what they look for in a fitness program.
Some of them want to stick to their favorite food and nutrition habits and make changes in the way they train to get in shape. Others would rather change their nutritional habits rather than hitting the gym too often. The three different variants give a lot of flexibility for women to choose what suits them best.
Designed By A Woman, Especially For Women
The uniqueness of the program resides in the fact that it has been designed by a woman, especially for women. This means it tackles the gender-specific issues other fitness programs ignore.
Very Well Organized
The program is very well organized, with clear guides and instructional videos. It is very easy to follow and understand.
Can Be Customized For Even Better Results
Both the "nutrition package" and "workout package" are customizable, thus being suitable for fitting into various lifestyle scenarios. For instance, if you have certain dietary restrictions that don't allow you to eat foods mentioned in the guides, Belinda Benn will provide you viable alternatives you can use with the same results.
If you have an extremely busy schedule and you can't find enough time for exercising, Belinda has some tricks that will help you stay on the right track.
Excellent Customer Service
The Get Lean Program is backed up by an excellent customer service and support team. From our experience, all members of the staff are helpful and friendly, and all inquiries being answered in detail within less than 48 hours.
Full Money Back Guarantee
All three packages come with a full money back guarantee for sixty days. This enables any woman to try the program without taking any risk. If it doesn't work for you, just ask for a refund and you are going to receive all your money back.
The Cons
Available Only Online
Like many other fitness and nutrition programs on the market, the Get Lean Program is available only in digital format. You won't be able to find it in your local stores.
Not Cheap
The Complete Transformation Package of the Get Lean program, which is the most recommended package for women who look for the best fitness results, might not be available for some women, when we take into consideration that it has a relatively high price.
In our opinion, it is worth all the money, but when it comes to affordability, some women may not be able to find the money to buy it.
Gym Membership May Also Be Required
Although there are some workouts you can do at home, the program implies in a way that you might need to get a gym membership or buy some basic fitness equipment if you want to get the best results from Belinda Benn's system…

Our Conclusions
Just like any other fitness system for women, the Get Lean Program has its pros and cons, and it is absolutely not the perfect program for every woman. Having said that, the fact that Belinda Benn provides a full refund policy means that you can try her fitness program without risk at all, which can imply about the confidence that she has in the effectiveness of the program.
Personally, we really like that Belinda Benn offers three different packages to choose from, which allows any woman to pick what suit her best. In addition, the facts that the Get Lean Program can be customized for your unique needs, that it was designed by a woman who is a fitness expert especially for women, and that great customer support is available, are all great advantages that you won't find in many similar programs online today.
All in all, we will recommend any woman who is searching for an effective, highly customized and very organized fitness system that was created for women only to give the Get Lean Program a try. After all, you have sixty days to "test drive" the program with no risk at all…
Click Here To Choose The Best Package For You And Gain Instant Access To The Get Lean Program With All The Bonuses Now!