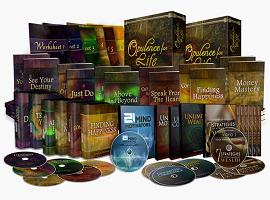 Hi there and welcome to our review of the Opulence For Life course by Dr. Steve G Jones and Winter Vee.
Like always, we will divide this review into three main sections:
1. The basics section that covers the major things that Dr. Jones and Winter offer in their program.
2. The pros & cons section where you will discover the main benefits and drawbacks of Opulence For Life.
3. The conclusions section where we talk about our final thoughts regarding this self-help course…
Let's start 🙂

The Basics
In simple words, "Opulence For Life" is a comprehensive training course that contains a detailed information on how you can change your mindset and achieve a prosperous life. Although it is focused on providing you with an opulent lifestyle, it also guides you on how to form happier and healthier relationships with your family, friends, and loved ones.
This course was created by Winter Vee with the help of Dr. Steve Jones, who specializes in Clinical Hypnotherapy. They explain they collaborated to form a long term solution to help people unlock their potential to create wealth by combining their years of experience.
Winter and Dr. Jones say that in the Opulence For Life program you'll find out that changing your mindset alone can already increase your potential of becoming rich. This will open up your mind to different opportunities that you've never considered before.
When examining the course itself, you will find that there are several modules which are comprised of discussions and step-by-step procedures that you'll have to follow to attain favorable results.
Through the daily activities, proper mind setting and knowledge in hypnosis, you'll be able to power up your subconscious levels and get the best things that you ever wanted in life.
To help you understand better what to expect from the Opulence For Life course, let's take a look at the six main modules offered inside:
Module #1 of Opulence For Life: Destiny
The first module discusses the primary reasons why most of us fail to achieve a successful life. It will teach you how and where to find the 100 strengths that you need to get over your weaknesses, and you will also learn how to permanently eliminate what they call the Mindset Killer. Along with this, you'll discover the mind tricks that empower the Olympic athletes and US Presidents.
It is also important to mention that in this module you will also get the equivalent hypnosis track, also entitled Destiny, which works to prepare your subconscious for better opportunities.
Dr. Steve Jones and Winter Vee explain that the Destiny audio hypnosis track works to soften and obliterate those negative beliefs and changes your mindset which can lead to more positive outcomes.
Module #2 of Opulence For Life: Transcend yourself
This module provides three simple steps to help you keep the promises you made to yourself. It also contains 7 helpful steps on how you can easily achieve your goals.
In general, this module unlocks your "super brain" and reveals a key virtue of success that you have never heard of. Its equivalent audio, which is also referred to as Transcend Yourself focuses on installing possibilities. It digs deep into your personality and destroys your damaging beliefs in order to set another path towards a better future.
Module #3 Of Opulence For Life: Above And Beyond
"Above and Beyond" includes the four things that you have to stay away from in order to attain favorable change and the four resolutions that guarantee a lifetime success. It also contains hacks on how to top up your productivity and how you can control it.
In this module, you will encounter an awesome "motivation hack" which will make you feel ready for anything that's going to happen, and also learn about the "Rule Of 5" that affects your ability to change.
This module comes with the Above and Beyond audio hypnosis track to further set your mood and facilitate a successful change of mindset.
Module #4 Of Opulence For Life: Money Mastery
In this module, you will discover how the top earners spend their money. You will also gain knowledge on how you can grow your own "Money Tree" as well as how to compute for your wealth quotient to see how wealthy you are right now.
This module also provides the 4 steps on "Mastering the Money Game" and it will direct you to a mental "radio station" that millionaires listen to in order to maximize their wealth potential. Like all other modules, it has an equivalent audio hypnosis track entitled Money Mastery.
Module #5 Of Opulence For Life: Communication
The fifth module and its audio track are entitled Communication. Here you'll find what Wealth Karma is all about and what you have to do to benefit from it. Because it is about communication, it targets your relationship with your family and loved ones.
Basically, this module reveals the 7 secrets to a more positive and healthier relationship, and you'll find out how to properly balance money and relationship for peace of mind.
Module #6 Of Opulence For Life: Finding Happiness
The sixth and last module is not just about wealth, and it mainly revolves around finding true happiness.
This module, as well as its equivalent audio hypnosis track, will complete your transformation and will help you to finally understand what the "A.R.K." is all about and how it becomes the highlight of your happiness. It is full-packed with different ways on how to properly socialize, including the 5 steps to understanding people and 5 lessons of forgiveness which is a key to transforming your overall happiness.
This module will also let you understand the 5 Pillars of Life Transformation and the 6 ways to remove confusion and hard feelings.
Bonus Items
Aside from the information-rich modules, Dr. Steve Jones and Winter Vee also included three additional bonus items at no extra cost. These are "The Millionaire Maker", "21 Mind Motivators" and "Your Week Of Excellence"…
Click Here For More Information About The Opulence For Life Course And The Main Bonuses That Come With It!

The Pros And Cons
The Pros
Provides A Wealthy Mindset
As you probably know, a positive mindset is not enough to achieve your goals in life. What you need to have and what the Opulence For Life provides is a way on how to obtain a wealthy type of mindset. It provides us with proper motivation tips on how to attain financial independence and it will help you to shift to a completely different mindset that makes you more productive and creative.
In addition, it also shows you how to have a happier relationship with your family and loved ones, something that many other self-help courses don't cover at all.
Easy To Follow
The modules in the Opulence For Life course are composed of step-by-step instructions on how you can become successful just by shifting to a better mindset. It will guide you through every step of the way until you reach your final goal.
We also must admit that the course is written using clear and simple words, which make all the steps easier to follow.
Fast And Effective
Winter Vee and Dr. Steve Jones promise that in a matter of few days, you are guaranteed to have a better perspective and a greater will power to obtain a significant wealth. By following the Opulence For Life program for just 30 days, they say you will be granted with an opulent life that you've always hoped for.
While there is some "marketing hype" in their claims, based on our research it seems that most people who have followed the program reported that they were able to live a better life and continue to enjoy the opulence that they've earned through this course.
Full Refund Guaranteed For 60 Days
Winter and Dr. Jones offer an unconditional 60-day guarantee for their system. This simply means that you can try the Opulence For Life course for 60 days, and if you are not satisfied with the result by all means, you will get all your money back.
This kind of guarantee makes Opulence For Life a risk-free course…
The Cons
Requires Diligence
In order for this program to work, you will have to diligently follow the steps and finish all the modules. Opulence For Life is something that you have to work on and be serious about, and it is not something that works overnight.
In other words, it will definitely take time and effort to overhaul your mindset and become a person with an all new perspective. There are no shortcuts here.
No Physical Copies
Unfortunately, Dr. Steve Jones and Winter Vee have not published any paperback version of their course yet, and you can only purchase their program online for now.
This means that all the modules, workbook and audio tracks will be sent to you in digital format which you can access through your computer, tablet or other devices.
If you are not a fan of digital products, this may be a con to you…


Conclusion

Overall, Opulence For Life by Dr. Steve G Jones and Winter Vee is a great program that can truly help you increase your productivity and achieve your long term goals.
The main modules and the bonuses work to provide a richer and more satisfying lifestyle that you've always wanted, and we must admit that this course is much more comprehensive when compared to similar self-help courses online.
Based on our research, it seems that many of those who have used the program have experienced a complete change in their way of thinking within the first few weeks, and a lot of people said that Opulence For Life was the main key towards their financial success. With this in mind, it is safe to say that this course seems to be an effective life-changing tool that prepares you for your upcoming success and financial independence.
While it is true that Opulence For Life has its own set of cons and it definitely requires your true efforts and hard work, we truly believe that this course offers a great value for money.
Moreover, since Dr. Steve Jones and Winter Vee offer a 60-day refund guarantee, there is really no risk giving their Opulence For Life program a try…
Well, that's all for today. We really hope that our Opulence For Life review was helpful for you.
We wish you a life full of success, love and happiness 🙂
Click Here To Get Instant Access To The Opulence For Life Course With All The Bonus Items Now!