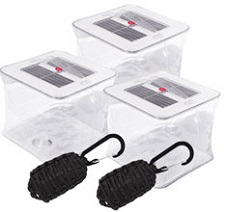 Hello and welcome to our review on the Solar Air Lantern cube by Survival Frog.
As always, this review will be divided into three main parts:
1. The basics section that will help you to fully understand what the Solar Air Lantern is all about.
2. The pros and cons section which includes the main advantages and disadvantages that we believe you need to know on Survival Frog's solar lantern.
3. The conclusions section about the Solar Air Lantern that will sum up our thoughts on this lantern…
Let's start 🙂

The Basics
Created by Survival Frog, a Denver, Colorado-based survival gear company, the Solar Air Lantern is a lightweight, inflatable, rechargeable, water-resistant, and durable solar lantern that provides up to twelve hours of emergency light on a single charge.
In a nutshell, here are the main features of the Solar Air Lantern:
When fully deflated, it's only 1-inch tall. It's 4-inch tall when fully inflated.
Each unit weighs around 4 ounces.
It doesn't need batteries or fuel because it draws energy from the sun using its built-in solar panel.
It has a newly improved cube enclosure, which is made of waterproof PVC and has a reflective bottom.
It can lighten a 12-foot area using its 10 great LEDs that give 80 lumens.
It provides 12 hours of light, or even up to 3 years if inactive, for every 6 hours of solar charging.
The operating modes of the Solar Air Lantern are Emergency Flash, Low, High, and Off.
It stores the collected energy in its rechargeable lithium polymer battery.
For easy hanging, it has handles on its top and bottom parts.
It is also worth mentioning that if you purchase two lanterns, Survival Frog will also include their Paracord Survival Kit with carabiner in your package at no additional cost. This kit enfolded in a 9-foot paracord with 550lb strength, and inside, there are 10 important survival items…
Click Here For More Details About The Features Of The Solar Air Lantern And The Different Packages That Survival Frog Are Currently Offering For It!

The Pros And Cons
The Pros
Goes Anywhere With You
This is one of the selling points of the Solar Air Lantern. At four ounces, it's truly a lightweight device. Even if you bring five or ten of these, they still won't contribute a lot of weight to your luggage.
What's even better is that it's compact, so it easily fits into your bag. If you really squeeze it when deflated, it would probably be half an inch thick.
Eco-Friendly Light Source
The great thing about products like the Solar Air Lantern is that it gets its energy from a clean and renewable source: the sun. That has lesser impact on the environment compared to the non-renewable and dirty energy sources (coal, oil, and natural gas), which are mostly used for electricity generation in the United States.
According to stats given by Environmental Defense, the electricity generation industry in the US contributes to acid rain by up to 62.6%, urban smog by 21.1% and climate change by almost 40%. [1]
No, we're not saying you're going to solve the pollution problem of the world. However, by using these types of eco-friendly products, you'll lessen your impact on the environment.
Effortless To Operate
The Solar Air Lantern is really easy to use. To inflate it, just slowly pull it apart using the handles on both sides while squeezing the open nipple-like projection to let air in. Even if it stays inflated for two to three weeks, it will still look the same as the day it was first inflated.
Turning it on is easy as well. Between the two solar panels is the power switch. Just push it once (low), twice (bright), or thrice (emergency flashing), depending on the setting you like. That's it.
Long-Lasting Illumination
Survival Frog usually sends these lanterns fully charged right out of the package. If you want to be sure, just put them under the sun, attach it to your bug out bag, or even under an incandescent light for six to eight hours.
From our experience, one charge can provide six to twelve hours of bright light on average. Based on the experience of some other consumers, one charge can even last for around 15 hours. Not bad at all, don't you agree?
Many Practical Applications
There are so many ways you could use the Solar Air Lantern cube. You can use it to…
Brighten up a room in your home during a power outage due to natural or man-made disasters.
Light up your tent, or push back the darkness around your campsite.
Read your favorite books in the dark.
Light up your backyard party and dinner dates, and much more…
90 Days Money-Back Guarantee
If you look at the bottom of the website of Survival Frog, you'll see that they have an A+ rating from the Better Business Bureau (BBB), which means they have a strong commitment to solving any consumer complaints. So far, they have zero complaints about their guarantee or warranty…
The Cons
Sunlight Problems
Is it sunny where you live? Well, this is one problem most people face when using a solar-powered appliance. No sun means you can't charge your Solar Air Lantern. Examples of countries that have longer nights or receive the least amount of sunlight are Sweden, Norway, Alaska, Greenland, and Northern Canada, among others.
(Resolved) Customer Complaints
We believe every company faces some type of complaint from their consumers, and Survival Frog is not an exemption. Some consumers complained about their billing, delivery, and product or service. However, we must say that the good thing about this company is that it seems they do their best to resolve these complaints. You can read more details about past complaints and the things Survival Frog did to resolve them here.
Waiting Time
Depending on where you live, you'll probably have to wait two to five weeks for your order. Not all people are patient, and if you're one of them, you might want to look for a similar product from your nearest department stores to avoid the waiting time…

Our Conclusions
Overall, we believe that the Solar Air Lantern by Survival Frog is a great product, and it seems that most of the people who bought it are satisfied with their units.
Personally, we really like the overall design of this lantern, and it's genuinely lightweight and compact. Survival Frog actually said it's going to be 1-inch thick when deflated, but it's actually half an inch if it's pressed. In addition, while it may look like a toy for some people, the materials used are surprisingly durable.
The LED lights are also great and really bright, but it would probably take more than one lantern to push back completely the darkness in a room, campsite, or backyard.
Of course, there are also some downsides to these lanterns, and on top of them is the fact that it's hard to charge them if you live somewhere that receives little to zero sunlight. There were also some consumer complaints on Survival Frog, but it seems that the company resolved majority of them, as evidenced by their A+ rating from BBB.
All in all, if you want to do your part to help the environment by using renewable source of light, if you live somewhere that experiences frequent power outages, or if you simply want to be ready for any emergency situation, then the Solar Air Lantern is a great option for you.
Based on users' feedbacks and our experience it seems that this product works as promised, and the best part is that with the 90 day money back guarantee that Survival Frog offers, giving a try to their Solar Air Lantern is a completely risk-free option…
Click Here To Discover The Latest Deals On The Different Kits Of The Solar Air Lantern Cube, And Get The Best Kit For Your Personal Needs Now!

References

[1] Environmental Defense. (2002, November). "Fact Sheet Air Quality: Electricity Generation and Pollution." Retrieved from http://www.science.smith.edu/~jcardell/Courses/EGR325/Readings/ElecPollution_EnvDef.pdf.