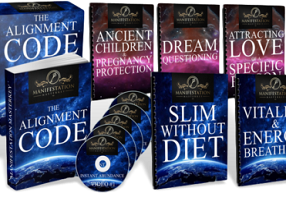 Hi there and welcome to our review of the Manifestation Masterkey by Glenn Bolton.
For your convenience, this review will be broken into three main sections:
1. In the first section, you will learn the basics of the Manifestation Masterkey course and the way it works.
2. In the second section, you will find everything you should know about its pros and cons.
3. In the last section, you will understand better if Manifestation Masterkey is really for you or not.
Let's start 🙂

The Basics
Created by Glenn Bolton, an entrepreneur, "Manifestation Masterkey" is an easy-to-follow course containing powerful techniques that can help you get rid of your core self-limiting beliefs and eliminate various life struggles in just a few minutes.
According to Glenn, he learned about the "Alignment Code" from an old man, who he met at a friend's wedding. This old man is supposed to be one of the 36 living Tzaddiks (or Tzadiks), who are respected spiritual leaders in Judaism.
The man offered Glenn to study in his secluded school. Mr. Bolton says he studied and stayed there for six months. After, he claims that he managed to turn around his life for the better – built a successful business, cured his terminal condition, got rid of his financial struggles, etc.
What's his secret?
Glenn Bolton says that within people's minds is what the ancient people called the "Animal Soul," which is just another term for the subconscious mind or deeper mind. Your deeper mind houses your beliefs, which you unintentionally inherited from your ancestors, according to Glenn. So, whatever thoughts or beliefs you nurture in your deeper mind – good or bad – those are going to be your reality.
The solution: You need to reprogram your mind to correct negative beliefs and thoughts and manifest only positive experiences repeatedly. That's where the Manifestation Masterkey course becomes useful.
What will you learn?
Listed below are some of the main things you'll discover in the Manifestation Masterkey course:
1. The Alignment Code – This technique will allow you to speak to your deeper mind and make it follow everything you command it. According to Glenn Bolton, this will permanently and effortlessly eliminate your self-limiting beliefs and 136 difficult life conditions, as well as attract whatever it is that you want.
2. The Names of Power – This second Masterkey Alignment Code is composed of specific words and letters, which are supposedly from Bible scriptures using ancient mathematic formula, namely Temurah, Notaricon, and Gematria. These will open and attract Abundance Energy to your life.
3. Practical techniques for weight loss (without changing your diet and exercising), breathing exercises for older adults, and several methods for protecting pregnant women and newborns.
4. Detailed information on how to attract what you want fast, and a lot more.
Aside from the main course, you'll also receive these five bonus items, free of charge:
The "How to Receive Inspiration and Answers in a Deep Sleep" Report
The "Ancient Ritual on Attracting Love of a Specific Person" Report
The "How to Send Powerful Currents of Energy into Any Part of Your Body" Report
Success stories of Glenn's students that they sent via email
Lifetime product updates
Click on This Link for More Information About the Manifestation Masterkey Course and the Bonuses!

The Pros and Cons
The Pros
It Will Help You Get in Touch with Your Deeper Mind
There are many benefits with understanding and tapping into your deeper mind (or subconscious mind). For instance, according to this article, faulty beliefs or thoughts and emotional distress can manifest in the form of physical disease or pain, which most conventional and unconventional treatments can't heal.
In this case, one of the best things you could do to heal your body is to heal your (subconscious) mind first.
It Will Help You Live a Positive Life
Nowadays, many people are mentally stressed because of the struggles of daily living. With the Manifestation Masterkey course, you will learn different techniques and ideas to help you overcome the challenges in your life and attract positive people, opportunities, and situations.
It's Easy to Implement
Practicing each technique will require only a few minutes a day. You don't need special skills or a previous knowledge about the Law of Attraction and similar thought philosophies to effortlessly follow the Manifestation Masterkey course.
Lots of Useful Bonuses
We always like it when authors include free stuff that adds real value. In this case, you get five great bonus items. We especially like the bonus about the success stories of Glenn's students. We believe it will help people stay motivated and find out what his clients did right to gain success from the Manifestation Masterkey program.
60-Day Refund Guarantee
Your purchase is backed by Glenn Bolton's two-month satisfaction guarantee. This guarantee is a great advantage, especially if you want to give this course a try but don't want to let go of your hard-earned money. So far, we didn't find complaints about their issuance of refunds.
The Cons
You Must Keep an Open Mind
We don't blame you if you feel this sounds too good to be true or strange. The only way to approach this course is to keep an open mind and follow Glenn's instructions to the letter. If you don't do it, it will be tough for you to achieve the results you try to get.
It's More Expensive Than Other Manifestation Courses Online
The last time we checked, Glenn Bolton offered a special discount for the Manifestation Masterkey course. However, we are not sure for how long this discounted price will last.
There's No Hard Copy
Manifestation Masterkey is a digital product, and Glenn is currently not offering this as a physical book or DVD. If you prefer leafing through a print book, this might be a major letdown for you.

Our Conclusions
Although there are many manifestation gurus, courses, and philosophies out there, we believe that the Manifestation Masterkey is worth checking out.
This course offers fascinating information that we didn't find in similar courses online, and we truly believe it can help you get in touch with your deeper mind and live a positive life. Besides, we also liked the fact that all the techniques are easy to Implement, and found the bonus reports from Glenn Bolton to be very useful.
Of course, the Manifestation Masterkey course is not without downsides, and like similar thought philosophies, no solid scientific evidence backs up how it works and its promised results.
There's also a lack of information about Glenn Bolton. Now, we're not saying he's a scammer. We just want to see real pictures of him and know more about his background. It would also be great if he added video testimonials from his students on the sales page to add more credibility to his program.
To sum it up: If you're looking for a manifestation course that is backed by lots of studies, or if you expect to get results fast and in an almost "supernatural way," then Manifestation Masterkey might not be for you.
On the other hand, if you need help getting rid of negativities from your life and attract more positive things, if you're looking for an interesting alternative to programs based on the Law of Attraction, or if you simply want to learn how to manifest your wants in life using an easy to follow system, then Glenn Bolton's Manifestation Masterkey course is a great option for you.
Moreover, since Glenn backs it up with a 60-day refund guarantee, you can go through all the materials without worrying about the money you spent.
Considering everything explained above, we think that you should seriously consider giving the Manifestation Masterkey course at least a try…
Well, that's it for this review. We sincerely hope you find this informative. If you already bought this course, we'd like to hear your thoughts.
We wish you success, health, and happiness 🙂
Click on This Link to Get Instant Access to The Manifestation Masterkey Course with All the Bonuses Now!