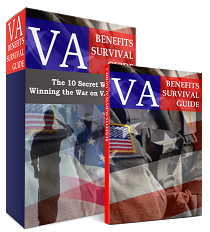 Important update:
Hi guys,
We are sorry to say, but after receiving negative feedback from customers who purchased the the VA Benefits Survival Guide, we must say that we will not recommend this guide anymore.
There are different reasons that led us to this decision and you can contact us if you need more information about that.
For now, we decided to keep our original review of the VA Benefits Survival Guide below. However, bear in mind that this review is not accurate and it doesn't reflect the feedback we got during the last several weeks.
We hope that it helps 🙂

The Basics
Created by Hal Goodman, an average person who's a son of a Vietnam War veteran, the VA Benefits Survival Guide focuses on 10 little-known tactics that would help war veterans appeal their rejected claims, get fast approvals on their claims, and take advantage of all the benefits they deserve.
Hal said his father was a Vietnam War vet who suffered from different diseases, from Hepatitis (due to infected blood transfusions during emergency wartime surgery), post-traumatic stress disorder, to type II diabetes. The sad part is he was only receiving a small compensation for a 30 percent disability rating. It was when his father suffered from a heart attack and didn't receive the benefits he deserved that got him mad…
Hal Goodman says he met a retired lawyer, who gave him case files that are similar to his dad's situation. This helped quickly boost his dad's monthly compensation and gave him access to free health care and a huge compensation.
Hal says he then decided to share everything he knows through an easy to follow guidebook, and this is how the VA Benefits Survival Guide was born.
In general, Hal Goodman divided the 10 simple steps for getting the benefits veterans deserve into two parts:
1st Part: For Quick Approval

1. Tips for securing a copy of military records and evidence.
2. How to create a solid case for yourself.
3. How to prove you're a "Boots on the Ground" veteran, even if you're a "Brown Water" veteran.
4. The fastest way to create your eBenefits account.
5. Learn how to write claims that get approved quick and are almost impossible to be denied.
6. Learn a clever maneuver that would help you avoid long appeal process and turn over a denial.
7. All you should know on how to speed up claim decisions.
2nd Part: Appealing Denied Claims
8. Learn how to win an appeal by using the VA's words against them.
9. The exact places to look for VA court records of successful cases that you could use to backup your case.
10. Where you could get a legal representative in case you're asked to appear before a judge.
Aside from these things, in the VA Benefits Survival Guide you'll also discover…
How to make your claim even if your records were burned in the 1973 fire
How to get cost-free funerals and burials
A strategy to convince the VA to pay for your missed mortgage payments
What you can do to secure the evidence required to prove "Boots on the Ground," even if you lack the paper documents
Two tactics you can use to get your claim approved in just a few months
Tips on how to replace medals, including the Purple Heart, and much more…

The Pros And Cons
The Pros
It's A Comprehensive And Well-Organized Guide
The VA Benefits Survival Guide will definitely help you "survive" because of the long list of topics it covers. Hal Goodman practically did all the research for you and organized his thoughts well, so everyone could easily follow and implement his suggestions.
Gain Access To Larger Compensation And Other Benefits
The VA has created one heck of red tape, so it's difficult for an ordinary war veteran to enjoy the benefits he deserves and to reverse a denial. Thankfully, you don't have to deal with this any longer through the help of expert advice and the VA Benefits Survival Guide.
With Hal Goodman's guide, you'll become more aware of the benefits you're entitled to from the VA, as well as the right way to file your claims and applications to get faster results.
It's Reasonably Priced
Some would argue it's still a bit expensive. That's a valid sentiment. However, you're paying for what this guide could offer you – a chance to increase your compensation and take advantage of other benefits you wouldn't normally know about. Does that make the price sound reasonable? We believe so.
Hal Goodman Offers a "Veterans-Only" Discount
Right now, Hal Goodman is offering an exclusive discount for early buyers. While the offer still stands, we encourage you to check out this guide if you're already at your wit's end. And if you're not happy with it for whatever reason, you can take advantage of the…
60 Days Money-Back Guarantee
You know the drill. If within sixty days this doesn't give you the results promised, you have every right to demand for a refund. However, before you do that, make sure you do everything in your power to read, understand, and implement all of Hal's strategies…
The Cons
Not A 100% Foolproof Guide
There's a possibility that the maneuvers in the guide may not always work for all people. After all, each person's situation is unique.
Physical Copy Is Not Available
Since it's an eBook, it's more convenient because you can download it to your PC, tablet, or smartphone. However, if you prefer a physical book or don't have access to a reliable internet connection, this can be a major con for you.
Availability Of Free Online Information
Well, we can't deny there are many sites online giving free information on this issue, and we encourage you to explore them. However, from our experience, the problem with this kind of free information is that writers don't usually go into details and may give generic advice.
In the VA Benefits Survival Guide, Hal Goodman gives you complete instructions and useful information to help you with claiming and appealing benefits…

Our Conclusions
Overall, we believe the VA Benefits Survival Guide can help war veterans claim and enjoy their real benefits by following just a few simple steps. It would not only help a war veteran, but also his defenseless widow (if ever he passes away).
The great thing about this guide is it's detailed and easy to understand. You'll become more aware of the benefits you might be entitled to from the VA, and after going through this guide, you'll know exactly what to do and how to do it.
Is the VA Benefits Survival Guide a foolproof guide?
Well, we don't think so. Nothing ever is, as far as we know. However, we believe this guide is one of your best bets out there, and based on the user testimonials found on the official website and some forums online, Hal Goodman's methods seem to work as promised.
To sum it up: If you want the VA to approve your claims and start receiving benefits you deserve fast, if you're always wasting your time missing deadlines and completing the wrong forms, or if you're tired of the government's broken promises, then the VA Benefits Survival Guide is a great option for you.
Moreover, with Hal Goodman's 60-day money back guarantee, we truly believe there is no reason to skip this guide without at least taking it on a risk-free test drive…
Well, that's it for this review of the VA Benefits Survival Guide by Hal Goodman. We hope this would help you make up your mind, and wish you and your family the best 🙂